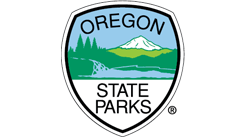 Know Before You Go
Class I and III ATVs are required to have United States Forest Service approved spark arrestors or end caps. Most mufflers or end caps will be stamped "USFS Approved Spark Arrestor if it meets the requirement.
The U.S. Forest Service is currently designating trails, roads, and open areas for ATV riding. Once the planning process is complete, the managing agency will print maps showing the designated roads, trails and open areas. It is the responsibility of everyone who operates an off-highway vehicle to know the rules and regulations for their chosen riding area before hitting the trail.
An ATV/OHV operating permit that is issued in another state shall be honored in the State of Oregon if the issuing state also honors an Oregon ATV operating permit. Regardless of the class of ATV, an operator must have a resident state ATV/OHV operating permit or a State of Oregon ATV operating permit to operate the ATV on public lands in Oregon. An Oregon ATV Operating Permit may be issued to any class ATV owned by a resident of another state. For a list of states that have reciprocity with Oregon, please visit the ATV Permits page
Some vehicles such as ATVs and side-by-sides are never street legal in Oregon even if licensed and plated in their home state. These vehicles must have a valid OHV registration or permit to be used on trails on public lands in Oregon.